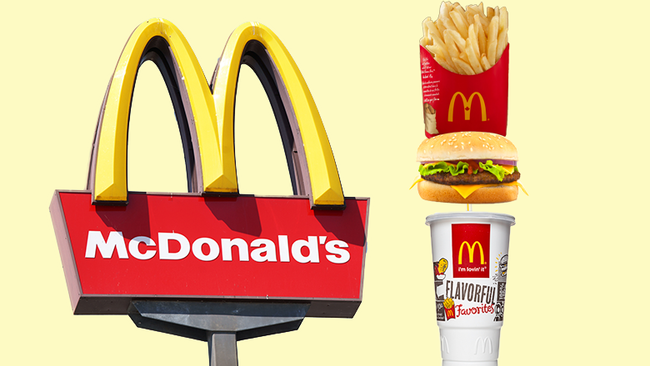 McDonald's customers love hearing about hacks at the restaurant as much as they love finding out about new menu items and now, the fast food chain is offering a very interesting tip to its fans. The McDonald's Australia Instagram posted the hack and it's getting a wide range of reactions, from people whose minds are blown to others who aren't impressed. The post promises burger lovers a way to eat their fries and hamburger, plus drink their soda, with just one hand.
The caption reads, "Fancy a one-handed meal? Simply unfold your burger box to make a fries tray, then perch it on your soft drink. Easy as. #dailynuggets #mealhack #mealonthego #maccas #imlovinit," and it features a diagram in the style of Ikea instructions, pointing out just how to do it. It shows a burger in an open box with fries in the empty side and that's all balanced on a drink. The straw comes through the middle of the box, seemingly stabilizing it.
While the idea seems revolutionary, the comments were pretty split. Plenty of the chain's followers said things like, "We've been doing it wrong all along!" and "Game changer!" and "Been living my life wrong for so many years!" Others, however, questioned the physics involved writing, "The burger weighs more than the chips making the box tip over including the drink. Not a very good idea," "Putting hot food on top of a cold drink ain't a good idea," "Mine fell. Don't do it you will have to buy another one," and "If you lift the burger up the fries are dropping on the ground."
Try it at your own risk!
Photo: Getty Images