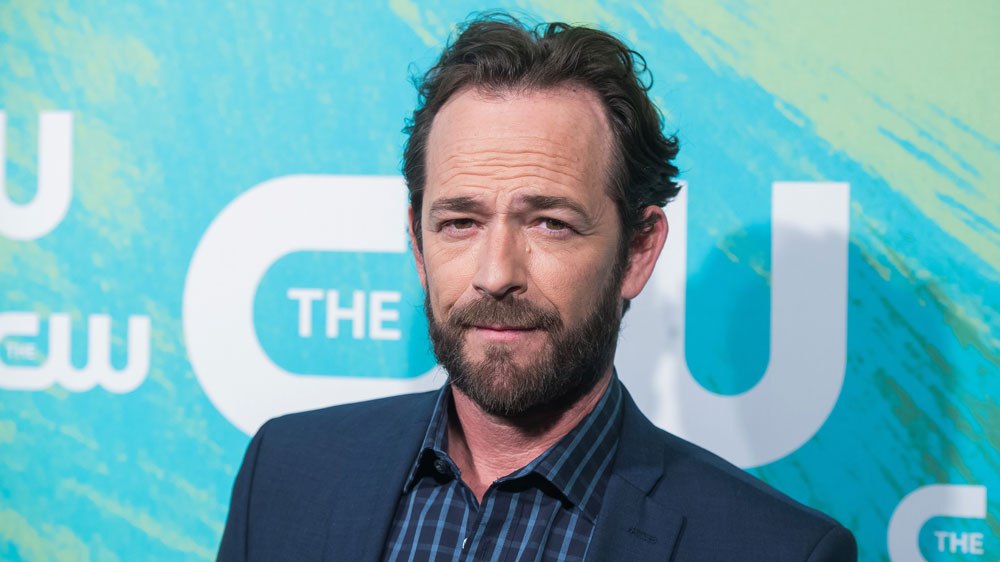 Hollywood is mourning the death of Luke Perry.
In case you missed the news, E! News confirmed Monday morning that the Riverdale and former Beverly Hills, 90210 star passed away at 52 after suffering a stroke.
The actor was first hospitalized in Los Angeles last Wednesday. And while his condition was kept private, a rep for Luke previously shot down rumors that the actor was in a coma.
Pop culture fans will easily remember Luke from when he rose to fame playing heartthrob Dylan McKay on Beverly Hills, 90210 in the '90s. Most recently, he played Archie's dad on the hit CW series Riverdale.
From longtime co-stars to close friends, many took to social media and paid their respects to the actor. Take a look at some of the moving tributes below.
My heart is broken. I will miss you so much Luke Perry. Sending all my love to your family. ❤️ #LukePerry

— Molly Ringwald (@MollyRingwald) March 4, 2019
L.P.

you
made every
situation better,
my man.

your
elegance
your wit
your charm
and
your giant heart,
inspired and
enchanted so many
of us,
on countless
occasions,
with brilliant aplomb.

R.I.P good sir.

i am
truly honored
to have known you
all of these years.

©️

❤️

— Charlie Sheen (@charliesheen) March 4, 2019
RIP Luke Perry. 💔 pic.twitter.com/g6rR5lqLUG

— Mayim Bialik (@missmayim) March 4, 2019
Oh God. I'm heart sick. I love you Luke. You were an angel and a friend to me. Loss for words. #LukePerry

— emma caulfield ford (@emmacaulfield) March 4, 2019
When I was lucky enough to work with Luke Perry I told him about the pillow of his face I used to sleep with and he yelled "You are such a weirdo!" at me and it was the best. Sending love to his friends and family.

— Leslie Grossman (@MissLeslieG) March 4, 2019
Luke Perry... you were a joyful and vibrant soul. You will be missed but most certainly your legacy will be remembered forever. Rest in love and peace, friend. #Riverdale

— Riverdale Writers Room (@RiverdaleWriter) March 4, 2019
Condolences to the family of Luke Perry. 😞

— William Shatner (@WilliamShatner) March 4, 2019
Luke Perry was a great actor and truly one of a kind. Watching him on 90210 was one of the reasons why I wanted to move to LA. Thinking of his family and friends on and off the set. Rest in peace.

— Ryan Seacrest (@RyanSeacrest) March 4, 2019
The first time I met Luke Perry we talked about what kind of movie we wanted "Buffy" to be. I asked if he'd ever seen "Near Dark" and he gave me a look of HOW DARE YOU SIR and I knew we'd get along. Funny, committed, and always gracious. He shouldn't be gone.

— Joss Whedon (@joss) March 4, 2019
Luke Perry - Irreplaceable beautiful and kind human being, incredible friend, generous actor and adoring father to Jack and Sophie and loving partner to Madison we are all heartbroken. You are the love and you are the light. pic.twitter.com/X3ycTvmXsb

— Patricia Arquette (@PattyArquette) March 4, 2019
The first person I remember watching on TV and thinking "that guy is cool" was Luke Perry. He made a kid from BK wanna go to Baja to surf for the weekend. My heart goes out to his loved ones. He will be missed.

— Jerry Ferrara (@jerryferrara) March 4, 2019
Super sad to hear the news about actor Luke Perry. Interviewed him several times, always such a lovely gentleman. Great guy. God bless him and his family. pic.twitter.com/YZq59joDK3

— Maria Shriver (@mariashriver) March 4, 2019
Heartbroken to hear of the passing of Luke Perry 💔#RIP Luke Perry.
💔💔💔💔💔💔💔💔💔💔💔💔
My condolences to Luke's family and friends. pic.twitter.com/fylYeHeTX3

— Maureen McCormick (@MoMcCormick7) March 4, 2019
Luke Perry was my 1st crush. Eh, more like obsession (I wore pins w his face on them to school 🙊) I used to dream of making it to LA just to meet him. I never got to, but I've always heard he was a really great person. 😔 Praying for his family & kids.... Rest in love ❤️❤️❤️❤️🌥

— Olivia Munn (@oliviamunn) March 4, 2019
#LukePerry was my first & only tv crush. If anyone in his family happens to see this: thank you for sharing your loved one with us. We mourn with you & cherish his memory always ❤️

— Rachael Leigh Cook (@RachaelLCook) March 4, 2019
I just heard about Luke. I am beyond shock and disbelief. So tragic to lose him so young. My heart is with his family. Goodbye, Old Friend. #RIPLukePerry

— Lou Diamond Phillips (@LouDPhillips) March 4, 2019
Please. I beg of you to show Luke's beautiful family the respect and privacy that they deserve during this devastating time. Sending love to them.

— Mädchen Amick (@madchenamick) March 4, 2019
Our thoughts and prayers go out to Luke's family and friends during this difficult time.